Display a notification bar on your whole site or only on some of your pages
While sometimes the message you want to display to your visitors should be visible across all your website, there are cases when a targeted message is more effective.
Smart Notification Bar can help you to show the right message at the right location for your visitors.
Displaying a notification bar on every subpage on your website could be useful if the message is important to every visitor. For example, if you offer free shipping on all orders, or you have sales on every product.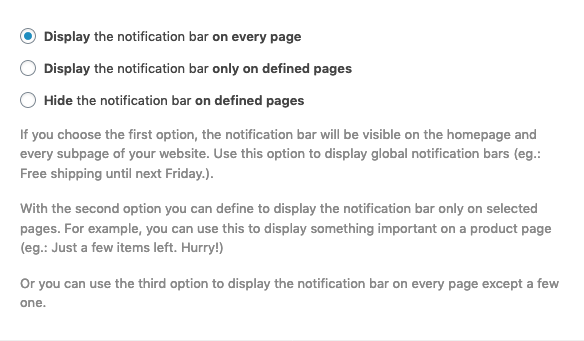 Define where you'd like to display the notification bar
Targeted notification bars can help you boost sales on specific products. You can create a notification bar that contains a discount code and target it to one of your highly visited product pages. This will help your customers to make a decision and get the product from you.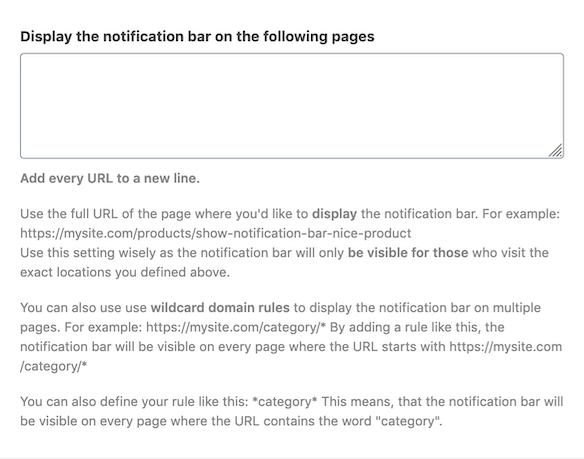 Define the pages where your notification bar will be visible
When you'd like to display your message on almost all pages except a few one, use the option to "Hide the notification bar on defined pages". On checkout pages, it's better to hide every additional element that could distract your user from finishing the process. This is one use case that this feature can help you with.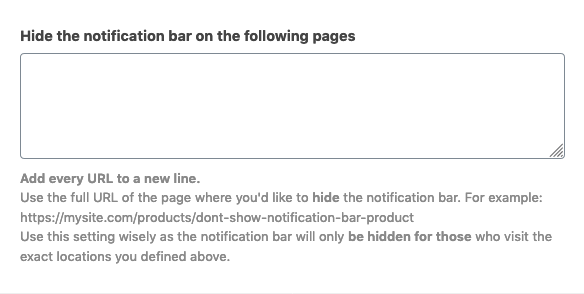 Define where you'd like to hide the notification bar
Take a look at all the features that are available in the Smart Notification bar.
If you have any questions, don't hesitate to get in touch via chat (bottom right corner) or email at hello@smartnotificationbar.com.