Display a notification bar to visitors who come from Google
Targeted notification bars can play a great role in driving more leads to your business. With Smart Notification Bar you can target visitors who came from Google, so you can show them a message to make sure that they'll choose your service or purchase one of your products.
To create a notification bar that is visible for visitors from Google is as easy as turning on a light switch. After you created your notification bar, all you need to do is to select the option to target users from a specific source in your Display settings and also choose the option to "Display for visitors who came from Google". Save your changes and your targeted notification bar is ready to go.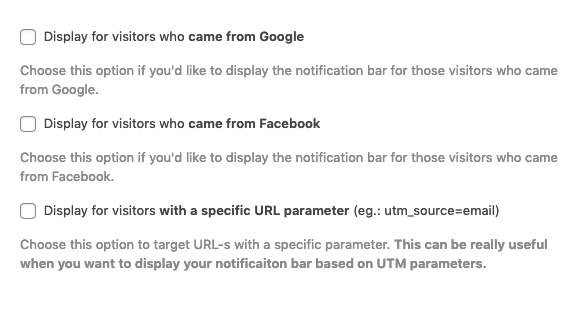 You can test it by searching for your website on Google and click on one of the results.
You can do something similar with visitors from Facebook, an ad campaign, email campaign, and many more.
If you have any questions, don't hesitate to get in touch via chat (bottom right corner) or email at hello@smartnotificationbar.com.